Be Sure, Be Safe!
Schedule a live Virtual Tour as if you were right here at the dealership
Watch a LIVE STREAM
RV Service SPECIALS
See all our Specials
100% Guarantee
We'll meet or beat the competition's prices, guatanteed! Download the Coupon Verification or claim required
Extreme Discounts on all used
RVs in inventory
Rates as low as 3.99% on selected
units OAC
Ask about our Free 24/7 Roadside and Technical Assistance
Ask about our Fly and Buy Program $300-$500 towards travel expenses upon RV purchase
If You Shop Somewhere Other Than Pedata for a Used Recreational Vehicle, You Could be Making a $10,000 Mistake!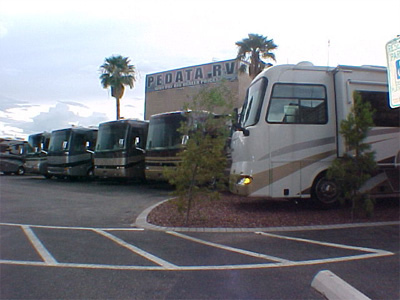 You can save thousands of dollars by purchasing a recreational vehicle from a wholesale dealer. You can save up to $10,000 on all sorts of motorhomes, fifth wheelers and travel trailers by buying directly from Pedata, the nation's premier RV wholesaler.
It's surprisingly easy to make an Internet purchase from Pedata RV Sales, and the prices of our used recreational vehicles are the lowest you will find.
Whether you're shopping on the Internet, or on a dealer's lot, you won't find a better deal on a used RV than you will at Pedata.
Here at Pedata, you won't be pressured by anyone trying to sell you an RV. We have no need to convince anyone that we have the best deals; our prices do that for us.
You can take a look at our wide selection of used recreational vehicles online, and select the one that meets your needs and your budget.
We are very picky about the RVs that we allow on our lot. We only buy the best from sources such as other dealers, manufacturers and private individuals, and they don't hit our lot until we say that they are ready for our customers.
Make sure to take a close look at all of the major RV brands, and compare the features and prices. These brands include Safari, Fleetwood, Holiday Rambler, Damon, Monaco, National, Newmar, Beaver … and the list goes on!
We are the nation's premier wholesale dealer of used RVs. If you're looking for a travel trailer, fifth wheel, or motorhome, don't pass up the opportunity to take advantage of huge savings by buying from Pedata RV Sales Center. We cater to every taste and to every budget. We offer everything from diesel pushers to gas fueled models, with or without slide-outs.
You're sure to find whatever it is that you're looking for amongst our extensive inventory of used, hand-selected RVs. We value your business, and it is our goal to assure that your shopping experience is enjoyable and stress-free, and that you end up with the RV that will provide you with years of happiness and traveling enjoyment.